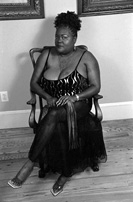 Although many of my Domme friends believe in female supremacy, I am not a female supremacist and if you serve Me, it will not be because I am a female but because of who I am. I am proud to be a Black Domina but I am not interested in a slave who just wants to serve a Mistress. I am interested in slaves that want to serve LADY D. I was trained by a Grand Mistress who was trained European Victorian Classicism, a style not widely used in this day and age. I was trained to have respect for this lifestyle and I have a deep regard for both Doms and subs alike. I freely show My slaves and subs love and honor and I cherish the gift that they freely give Me, their submission. If you are a submissive that has little or no self worth, no confidence and have no idea who you are, you cannot serve Me! How can you give Me your best if you don't even think you have a best. As a responsible Dominant My job is to help you to be the best that you can be. I will not play caretaker but I will teach you how to care for yourself and of course how to care for Me. (smile)
In your self-exploration you may find that you evolve into something else, like a caterpillar becoming a butterfly and if this occurs, don't be afraid to soar. I believe that there is no 'one way' to this lifestyle. Each of us must find our own path. This is not for everyone and even for the ones that it is; there are many levels in which you may explore. I will help you to explore them safely and sanely and we will consensually push those limits. I will tell you of your true potential even if that is not one of servitude and submission. I have no problem if you are a fantasy submissive for you may request my professional services so that I may help you achieve that fantasy. However, to serve Me on a personal level, you must have the heart of a slave. If the desire to serve has always been a part of you, always been in the back of your mind and for you serving is its own reward, then regardless of whether you have ever had an experience or not, chances are this is for you. If pleasing others is what brings you pleasure and the thought of giving yourself over to another thrills and excites you; you probably have the heart of a slave.
Although another's style may not be my own, I try to remain non-judgmental and believe that every Dominant must do what works for them. I realize that the way that I run My household works for Me but that does not necessarily mean that it will work for everyone. I show My submissives respect because I demand respect from them and I believe in giving as much as I receive. As long as you respect Me and Mine, I will respect You and Yours. I believe a Dominant should mentor a new potential Dominant and take a newbie sub under their wing if they see them alone, scared and floundering. I also believe that this takes a certain amount of discernment to identify real potential and if not wisely used, you could end up mentoring every Dom or sub that finds your name. I do not believe that mentoring should be used to find an easy target, get an easy lay or any of the other many detrimental things I have seen done in the name of mentoring.
Power exchange is a two way street for Me and exchange is the operative word here. For Me this power exchange is a spiritual growth and when achieved, it is the most ultimately intimate thing between the parties involved. Power Exchange achieved, touches your mind, body and soul to the very essence of your being. Since everyone does not desire to experience this type of relationship, I reserve this type of play with people that can relate and make it mutually meaningful. I can also play on just the physical level and it can be fun and lighthearted and tactile. As a fantasy fulfiller my concentration is on doing just that and since it is not usually about power but fulfillment, most of my professional clientele are usually composed of this group. Because I am more of a mental sadist than a physical one, many masochists also fall into this pro category althought I have found that many of my own slaves are also quite masochistic. I guess I just bring out the best in some. (smile) At the point that you decide to contact me… KNOW WHAT YOU WANT or at least if you are too new to know, be honest enough to say so. Remember that to get what you want you have to know what you want and to know what you want you have to know who you are. Honesty is imperative and in order to be honest with Me; you have to be honest with yourself! Communicate your thoughts and feelings often, for it is a great tool to measure where you were, where you are and where you want to go. Without constant and honest communication, any hope of any longevity in our relationship will be thwarted. This lifestyle is more than just fun and games for Me so if that is all that you are searching for, you may want to reconsider before contacting me and search elsewhere.